Chairpersons of the Graduation Ceremony
The ceremony was a milestone marking the maturity of 21 graduates of Bachelor of Business Studies – Intake 8, who had chosen to spend their final year in Vietnam; other students with the final year in the UK also had a solemn graduation ceremony at the University of Bedfordshire last month. All the students deserved to be honored for their hard work during the past four years, overcoming rigorous requirements to obtain the internationally recognized bachelor's degree of University of Bedfordshire and IELTS results from 6.0 – 8.0; especially, many had found a suitable job in the 4th year. Every student graduating with initial success on their career path brings great joy to the Faculty of International Education. We wish the new graduates, as their seniors, to find their true call in both career and life, "be bold, be strong" to take control of their own lives.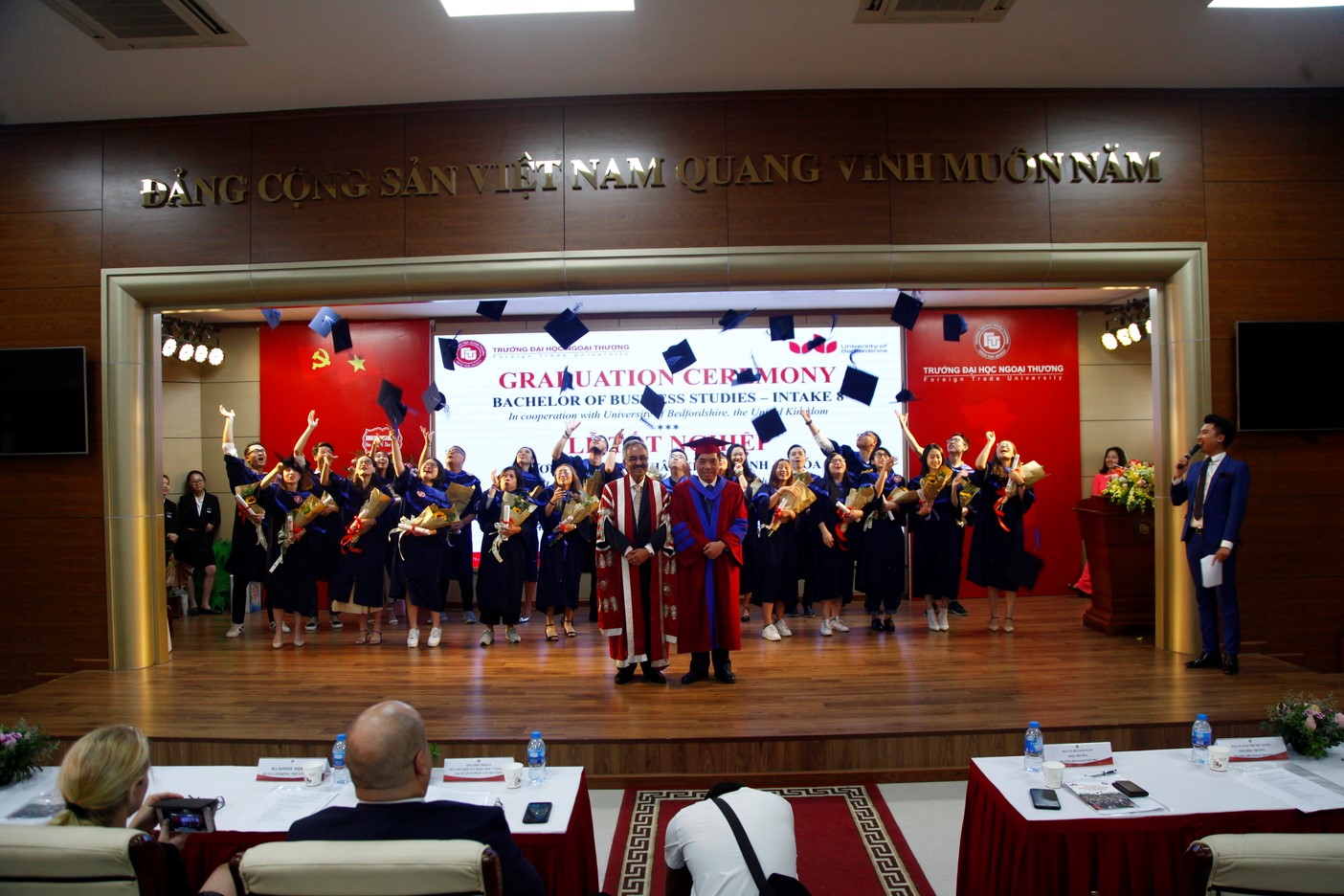 New graduates taking photos with Assoc. Prof. Dr. Bui Anh Tuan - President of Foreign Trade University and Prof.Dr. Asharaf Jawaid - Vice-Chancellor of University of Bedfordshire
2018-2019 had marked another year of success for the Faculty of International Education. We had strived to launch 4 more bachelor programs of high-quality education and attractive majors, namely Bachelor's Degree in International Hotel Management by FTU - Vatel Hotel and Tourism Business School, France; Bachelor of Science in Accounting & Finance by FTU - University of Northampton, United Kingdom; Bachelor of Journalism and Mass Communication by FTU - Ming Chuan University, Taiwan; and Bachelor of Law and Business by FTU - Aomori Chuo Gakuin University, Japan. The programs have contributed to a wide range of choices and have been highly welcomed by students and parents across the country.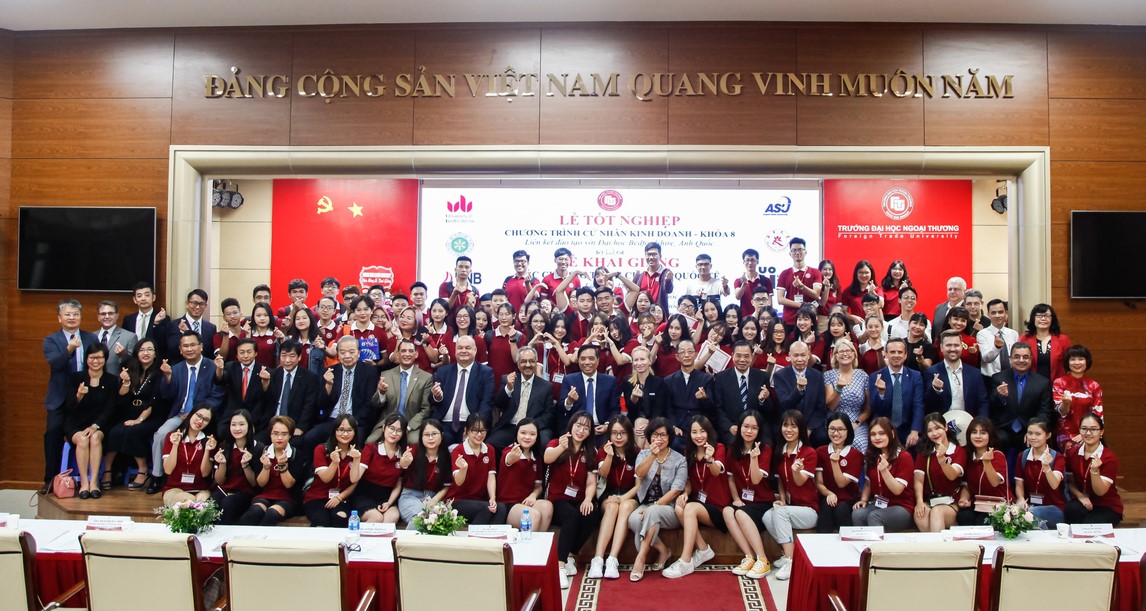 Group photos
This school year, the Opening Ceremony welcomed 763 new students with enhanced input quality, the number of freshmen achieving IELTS 6.0 or above was 112, accounting for 15%. Moreover, the Ceremony was honored with the presence of distinguished representatives from the Vietnam Ministry of Education and Training; the US, UK, Canada, Japan, Denmark, Taiwan, Singapore Embassies; presidents of former and present partner universities; as well as Foreign Trade University Board. On this occasion, representatives of partner universities awarded prizes to excellent students and announced a scholarship fund of hundreds of thousands of US dollars, a new school year gift to encourage and motivate students of the Faculty.
Other photos