Indeed, the long and eventful history of relationships between France and Vietnam is newly marked by the collaboration of Vatel and Hoa Sen University.
I. PROGRAM INTRODUCTION
II. WHY CHOOSE THIS PROGRAM
III. CAREER PATH
Vatel program trains high-quality employees for domestic and Asia Restaurants – Hotel. Graduated students can work for international hotels and restaurants as coordinators and assistance of coordinator management:

IV. PROGRAM OBJECTIVES
The program trains students to be able to work in executive and management positions in the field of international hotel and restaurant tourism. After three years of training, Vatel graduates are fluent in English, knowledgeable in management, and have professional skills in all departments of restaurants and hotels such as F&B, Front Office, Marketing, and Human Resource… and has nearly 1.5 years of practical experience through 3 internships at hotels and resorts at home and abroad. Students are able to meet the requirements of promotion opportunities after a few years of work experience after graduation.
V. COURSE CONTENT

Standard 3 years. Consists of 6 semesters and 3 compulsory internships at hotels (internship period: 4 months in Years I and II, 6 months for an internship in Year III).
The entire program is 100% English teaching, according to the training technology transferred by Vatel Hotel & Tourism Business School:
Year 1:

Students have basic access to knowledge of marketing, human resource management, administration, and specialized culture as well as skills to behave professionally in accordance with other cultures. each to initially become proficient in service, food processing techniques, organization of parties, events, conferences, and how to handle unexpected events that may take place. Students will end the school year with an internship at a hotel.
Year 2:  Along with continuing to improve professional theoretical knowledge, students will experience more management skills in specific real-life situations. Students learn to practice in the professional departments of hotels 4 – 5, team management skills will be enhanced through managing a group of 1st-year students, as well as being managed by students. 3rd-year student. At the end of year 2, students will have enough confidence to practice abroad and at the same time perfect their ability to use foreign languages ​​fluently and professionally.
Year 3:  Students are fully equipped with all the necessary knowledge. At this stage, they are ready for the position of managing a group, right in the Vatel school itself. Students have the ability to evaluate and apply the knowledge they have learned to solve work like real workers. Followed by a 6-month internship specializing in a department that students choose as a future career. All these experiences allow students to become management trainees in high-class Hotels and Restaurants without any hindrance.
Graduates will be Bachelor level and awarded a Bachelor's degree in International Hotel and Restaurant Management (Manager en Hôtellerie Internationale/ Bachelor's degree in International Hotel Management) from the Vatel Hotel & Tourism Business – French Republic – The "Best Hospitality School" in Europe in training hotel and restaurant management. (*Ifop 2007).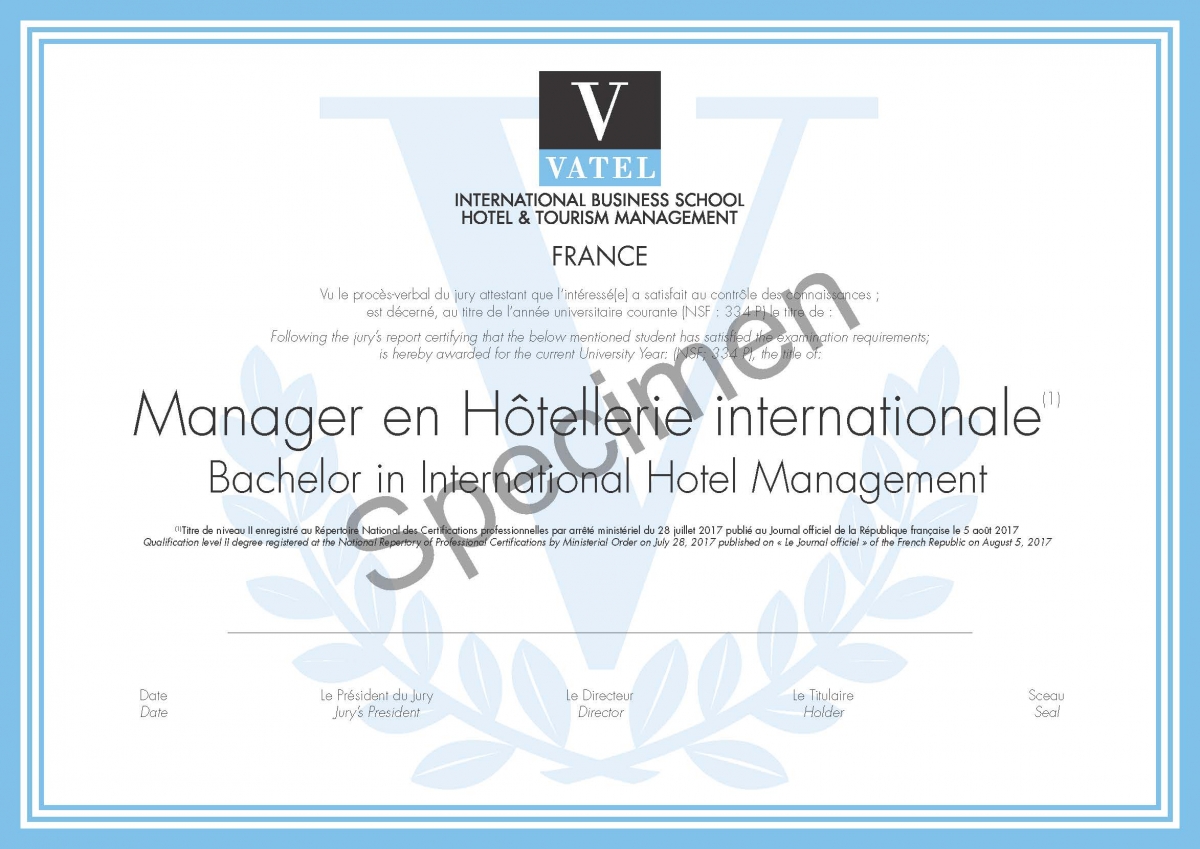 * Ifop 2007: Institut Francais d'Opinion Publique – The first and leading French Institute for Market Research and Public Opinion with the participation of Hotel managers in Europe)
VII. ACCREDITATIONS
Vatel is ranked 1st school in France in the "Hospitality and Leisure Management" subject.
We are very happy to learn that Vatel is ranked 1st school in France in the "Hospitality and Leisure Management" subject, by the prestigious QS World University Rankings.
We dedicate this 1st place to our students, teachers, and alumni.
VIII. MARCO POLO
MARCO POLO, AN EXCHANGE PROGRAM TO LEARN MORE ABOUT THE INTERNATIONAL HOSPITALITY INDUSTRY
Those who want to have a career in the hospitality and tourism industries must have an international and cross-cultural outreach. Present in over 30 countries on four continents, Vatel Group gives its students the opportunity to develop their cross-cultural mindset by doing their second year in different Vatel schools.
Marco Polo: your second year in another Vatel campus
The educational concept remains the same, the only things that differ are the cultural environment and language. Vatel schools throughout the world have the same educational programs: students thus continue their courses abroad before going back to their home school, in France, for their 3rd year of the Bachelor in International Hotel Management program.
A program awarded Best Innovation in an Educational Program
The Marco Polo program has been granted by international hospitality professionals the Best Innovation in an Educational Program Award at the Worldwide Hospitality Awards. A recognition expressed by those who recruit Vatel interns and Vatel alumni throughout the world.
Benefits of spending an entire year abroad
Master an additional foreign language.
Enrich your resume and increase your employability.
Gain maturity and credibility.
Quickly assimilate other forms of know-how, savoir-vivre and savoir-être.
Familiarise yourself with different teaching methods.
Open to other types of management in various cultural contexts.
Better understanding of the expectations of an international clientele.
Prepare to manage teams of various nationalities.
Gain solid knowledge of the international hotel industry.
IX. OUR PARTNERS
V. CONTACT US
VATEL HO CHI MINH, VIETNAM
Office: Room 1007, 10th Floor
Address: 08 Nguyen Van Trang, Ben Thanh Ward, District 1, Ho Chi Minh City, Vietnam
Phone: 028 7309 1991 (Ext:11546)
Hotline: 0782 372 642 (Direct/ Zalo/ Viber/ Whatsapp)
Email: admissions@vatel.vn