The results of the efforts, study and training of students of the Bachelor of International Hotel Management programme at the Faculty of International Education, Foreign Trade University in cooperation with the Vatel School of International Hotel & Tourism Management, France are best demonstrated through comments from hotel managers and customers served by students.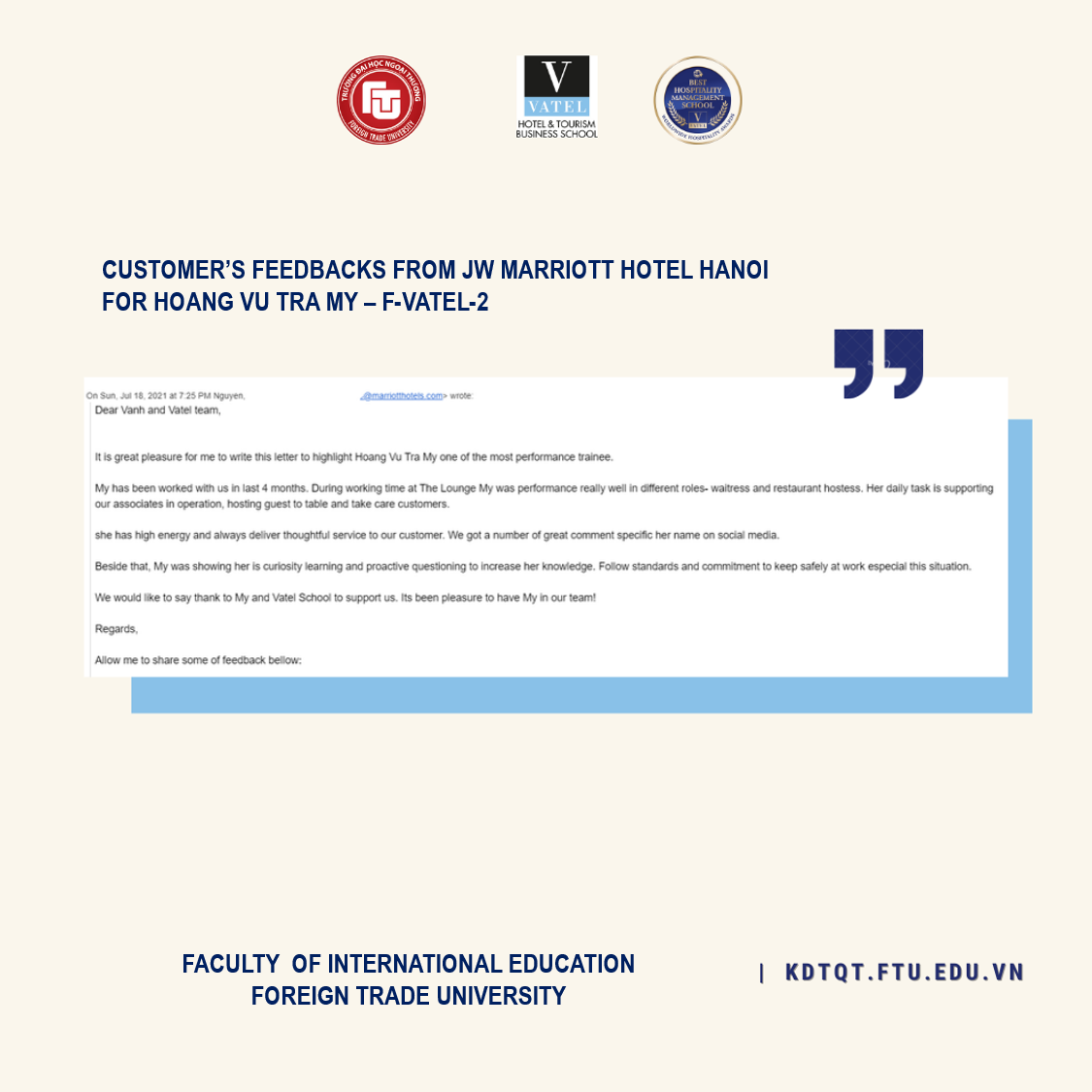 After 4 months of internship at JW Marriott Hanoi, Hoang Vu Tra My - student of F-VATEL-2, Faculty of International Education, Foreign Trade University received very positive feedback from customers as well as compliments from restaurant managers of JW Marriott Hanoi. Having interned at many positions such as wait staff and reception staff, Tra My always actively learns from the staff and shows enthusiasm in each given task to provide dedicated customer service. My's professional attitude and skills are also recognised by many customers, as proven by the comments on the famous travel review website TripAdvisor.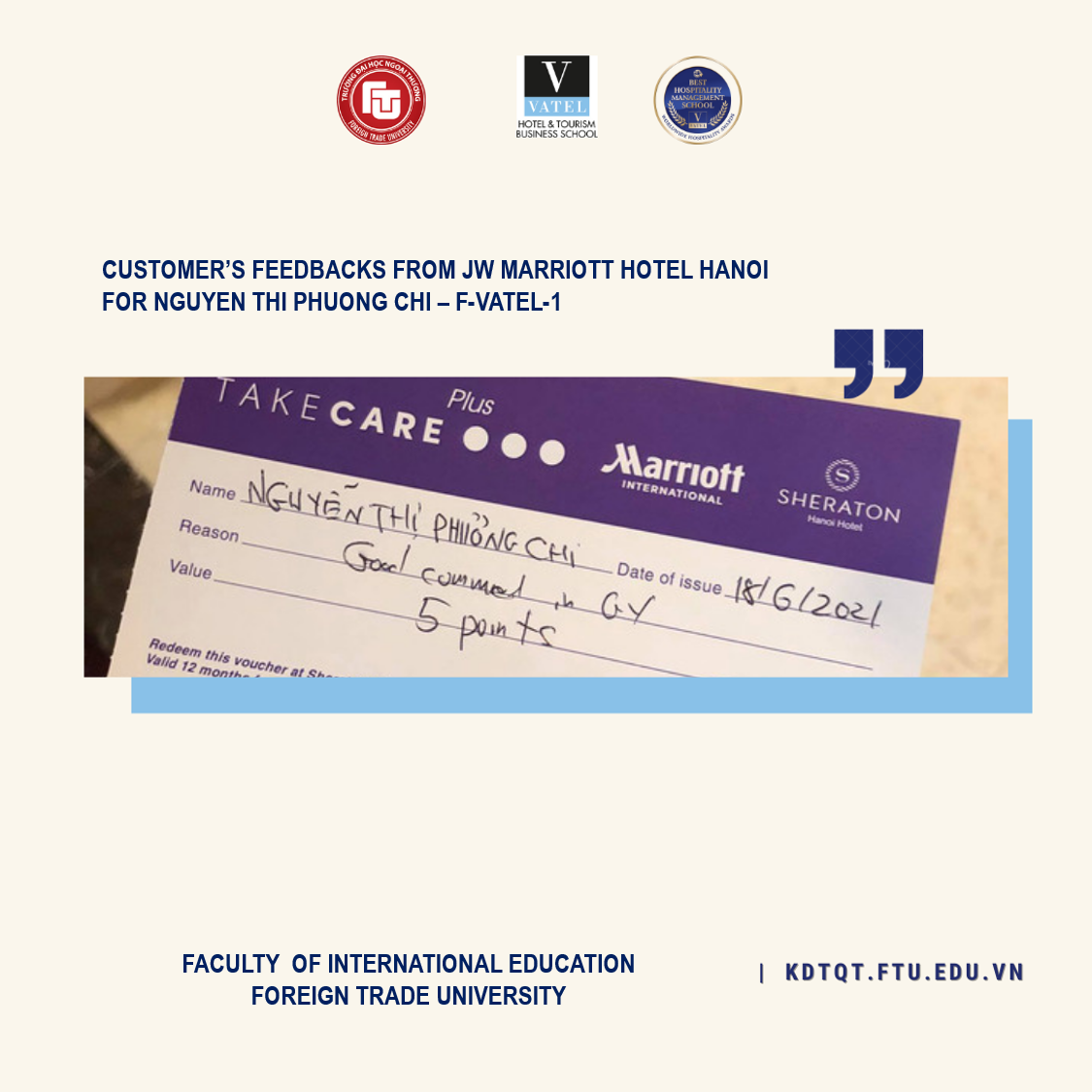 Together with My, the Faculty of International Education is proud to receive many positive feedbacks from the managers of 5-star hotels where students of the internship programme are located; for instance, Tran My Hanh and Do Quyen - class F-VATEL-1, course 1, interns at the Guest Relations department at InterContinental Danang Sun Peninsula Resort, or Nguyen Thi Phuong Chi - class F-VATEL-1, course 1, intern at VIP Lounge, Sheraton Hanoi. The feedback from 5-star international hotels is the clearest proof of the training quality of the programme.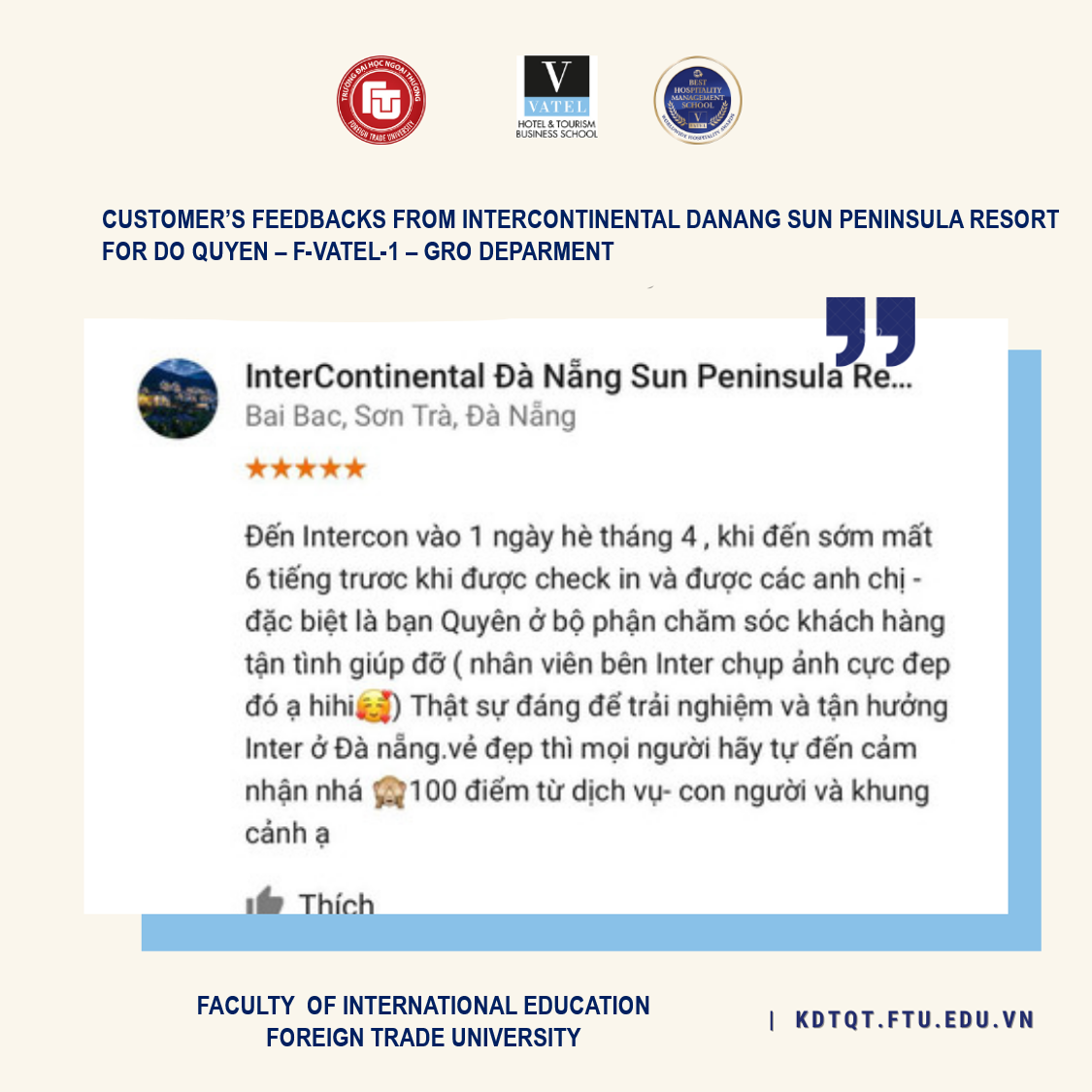 Launched in 2019, the Bachelor of International Hotel Management programme in cooperation with the Vatel School of International Hotel & Tourism Management, France offers a completely new educational method and high practicality:
25% management theory, 25% practice and 50% professional internship at 5-star hotels global.
Practice rotation at all departments of 5-star restaurants and hotels.
With 3 years of experience, having been properly trained from attire, appearance to working style based on Vatel's international standards, students are not only 99% confident of having a job right after graduation but also have a remarkable career advancement path.
With the advantage of speaking English + French, understanding of Vietnamese culture, customs, and the flexibility typical of Vietnamese people, students have a fair chance to compete with international candidates for high-profile positions with salaries of up to thousands of dollars
Do not forget to update the schedule of the entrance exams and the admission schedule for new students of the VATEL programm in AY 2021-2022 at the link: https://kdtqt.ftu.edu.vn/tin-tuc/thong -bao-lich-tien-do-nhap-hoc-cho-sinh-vien-chuong-trinh-quan-tri-khach-san-quoc-te-vatel-phap?language=vn